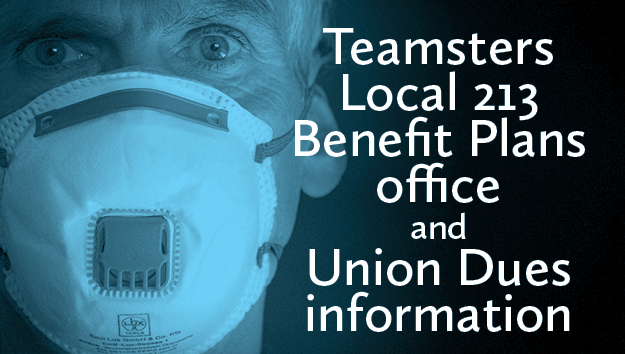 Important Benefit Plans office and Union Dues information
In the midst of the COVID-19 pandemic, we want to take a minute to remind and reassure you that the Local is here for you. While all Teamsters Local 213 offices are temporarily closed to the general public, members are welcome to the Dues office, however we ask that you contact the office in advance of coming in.
We're addressing many of your concerns during this time, especially regarding Members Benefits and Union Dues.
The Teamsters Local 213 Members Benefit Plans office is temporarily closed to the general public. Due to the pandemic, the phone lines can experience high volume. You can email inquiries@teamsters213benefits.com and staff will respond to you as soon as possible. Members are welcome to drop off material at the main office reception.
Regarding union dues, in the event of exposure quarantines lasting over a month, contracting the virus and on sick leave or EI, or on layoff due to your employers temporarily closing, please contact the dues office and request to pay out of work dues or take out a withdrawal card.
Phone: 604-876-5213
April 23, 2020 Bulletin Coronavirus-STD claims G1018-G787