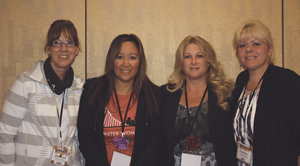 The 2012 Teamster Women's Conference, held in San Francisco this year, brought together more than 800 Teamsters from across the United States, Canada and Puerto Rico.
The three-day event featured an impressive lineup of speakers, networking opportunities and
educational workshops on labour law, steps to financial security, social networking, strategic planning
for business agents, and much more.
A major theme of the conference was the importance of winning the war against workers by mobilizing Teamster members and encouraging them to exercise their rights to vote.
Teamsters Canada hosted a breakfast workshop for all Canadian participants. General President James P. Hoffa spoke at this event.