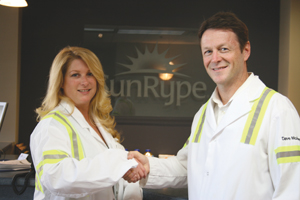 The 200 Teamster members at Sun-Rype in Kelowna have something in common with the referees of
the NFL. Employers presented both with proposals for eight-year contracts.
Local 213 Business Agent Kimm Davis said we might be seeing more long-term agreements because
"companies are looking for long-term labour commitments and unions want security for their members."
Davis said the union wasn't surprised by the company's request for a long-term deal but were certainly
open to the idea.
The new agreement includes wage and benefit improvements and runs until Aug. 31, 2020. It
supersedes the last agreement which would have expired in 2015.
Company CEO Dave McAnerney said, "We are extremely pleased to have a long-term deal in place
prior to expiration of the current agreement. This agreement provides labour stability at our Kelowna
facility, which plays a key role in Sun-Rype's long-term growth strategy."
The relationship between the company and union has not always been so amiable. The Teamster
members were engaged in a bitter four-month strike in the winter of 2007/2008. The dispute ended with
the two sides agreeing to a four-year contract. However, that animosity is a thing of the past.