One year later….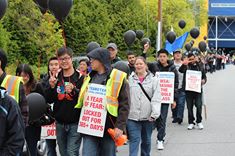 When the company owned by the world's fifth richest man challenges 350 unionized workers in Richmond, B.C. and demands they take concessions, you know it's a David versus Goliath fight.
But IKEA workers now locked out for a year won't give in to billionaire owner Ingvar Kamprad.
The lockout illustrates the difficult challenges faced by organized labour in B.C. when a small group of local workers is pitted against a big, multinational corporation….
Click on the links below for the full story