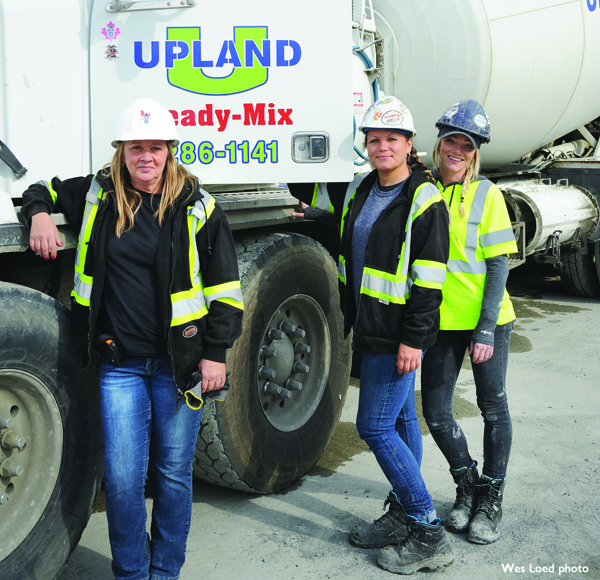 Malinda Fabick, Alaina Dirks and Stephanie Dykes make up 33 per cent of the drivers working at Upland Ready-Mix in Campbell River. It's an astounding percentage when the number stands at less than four per cent in most other trades in jurisdictions across the country.
Before Fabick took the job at Upland, she was driving a school bus for children attending a middle school in the Lower Mainland. A relative in the ready mix industry suggested she might like construction. Her reply to anyone who doubts that she can handle working with construction people is told, "You haven't met middle-school boys!
"The job has changed me a lot," she said. "I'm carrying buckets of concrete up ladders and moving shovelfuls of cement.
"And the other two (Dirks and Dykes) are just as competent as any of the other guys."
Dirks was working in the office but did other work too, like turning leftover concrete into blocks. She became a driver in 2013.
Dykes already had her licence because she was driving trucks in Alberta. She joined Upland in 2015.
Business Agent Paul Way said he's glad the company has accepted these women. "We have to be more inclusive and this company has done a good job of that.
"It's a unionized site so if there are concerns we are able to deal with it. There's job security and seniority (and) the wages, health and welfare benefits and pension are good. Some women – and men – don't have access to these benefits."
"You know your company has to survive," Way said, "but you have to stand up for the collective agreement too."
"There are two other ready mix companies in Courtenay," she pointed out, "and they're not union." The wages are lower and discipline is severe. "There's definitely a difference," she said.
She learns a lot when she goes to meetings. At the last one, she heard about community benefits agreements that will guarantee union wages and representation on publicly funded construction projects in B.C. and learned about training courses being offered by Local 213. "I wouldn't mind taking some training," she said.