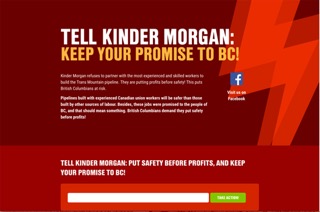 Tell Kinder Morgan to keep its promise!
The B.C. Coalition for Safety Before Profits and its members have launched an online campaign to tell Kinder Morgan to keep its promise to British Columbians—that is, its promise to put SAFETY BEFORE PROFITS.
In response to a growing community of British Columbians who are concerned about Kinder Morgan's level of commitment to safety, rigorous training for their workers, and upholding B.C.'s five conditions, the coalition was formed. Members include Teamsters Canada, the International Union of Operating Engineers, Labourers' International Union, and Canadian Piping Trades. Collectively, these members have safely build the majority of pipelines in Canada. Why then, would Kinder Morgan rely on anyone other than the most experienced workers to build their Trans Mountain Pipeline?
Tell Kinder Morgan to keep its promise to B.C. Visit the Safety Before Profits website and Facebook page.