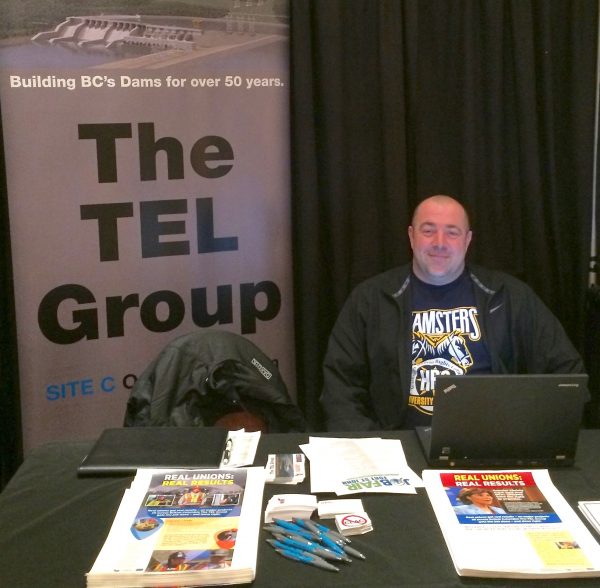 Business Rep Jason Conway at the Site C Job Fair in Fort St. John
The TEL Group (Teamsters Local 213, Operating Engineers Local 115, and Labourers Local 1611) is organizing at the Site C Dam site in Fort St. John.
The TEL Group was contacted several months ago by workers at Peace River Hydro Partners Construction Ltd. represented by the Christian Labour Association of Canada (CLAC) who were unhappy with the representation they have received, disappointed with the terms and conditions of their employment, worried about their workplace health and safety, and who felt that the CLAC needs to be replaced as their representative.
The Teamsters are delivering the message that real unions make a real difference in people's lives and providing evidence that CLAC is undercutting the work of legitimate unions and rolling back the clock on gains made over decades by union members who've had to go on strike and fight employers for every concession and benefit.Real unions conduct open and transparent organizing drives. Members of real unions vote to ratify their collective agreements. Real unions
fight to strengthen labour rights, raise employment standards, and negotiate agreements with better provisions and protections than the
minimums required by law. Real unions have real pension plans so that people can enjoy well-deserved retirements.
The CLAC was formed in the 1950s with principles that favoured employers at the expense of workers. Employers have signed on with the CLAC to keep unions out. That has left employees without the input and respect they deserve. The CLAC claims it is a legitimate union, but the track record speaks for itself. Now workers are saying "No" to these phony unions and saying "Yes" to bona fide trade unions.